Cooking for a big family is fun and fulfilling. But when it comes to boiling stuff like rice or pasta, and you have to fill your pots with water from the sink and carry that weight all the way back to your stove, well that sure is strenuous. My back just hurts thinking about it. To save all this trouble, a pot filler faucet over stove came to our rescue.
But before just heading out to install a pot filler in your kitchen, you need to determine some important things like pot filler height, should a pot filler be centered or offset to the left or right, and what kind of pot filler you should buy. Read on to make an informed decision at the right time.
Quick Read: A pot filler should be installed on a wall or backsplash behind your stove at a height of 12 to 24 inches from the burners. Or you may use your tallest pot to determine the pot filler height that you require. It should be 2 to 3 inches higher than your tallest pot's height.
Read on to get more useful information on pot filler height and placement over stove top.
Do I Really Need a Pot Filler?
Pot filler (also known as a pasta arm or kettle faucet) is a wall-mounted water faucet installed above the cooking range or stovetop. It provides a convenient water source to fill your pots without having to move them from the burners.
It is true that pot fillers are not something that you cannot do without in a kitchen. But if you want to make your cooking more convenient and effortless, then these faucets over stove are a good investment. And they look aesthetically appealing too.
Look how this simple kitchen backsplash gets the wow factor by adding the Delta Faucet Traditional Stainless Steel Pot Filler Faucet to it.
As for people with back problems or injuries, or who have undergone spinal surgeries of any kind, a pot filler is a must have. This is because lifting and carrying water-filled pots can put immense strain on their back and aggravate their condition.
Also, while carrying water-filled pots from the sink to the stove, some water can also get spilled or splashed on the counters or floor. This is not only an extra mess to clean but can even damage your kitchen. For instance, if you have wooden flooring or counter lamination, even a small amount of water can warp the wood. A pot filler relieves you of this worry as well.
Pot Filler Height Above Stove
A pot filler should typically be 12 to 24 inches above the stove or cooking surface. The large variation in this range is due to the varying needs and preferences of users. And also due to the different local building codes. So this is just an approximation for the pot filler height above the stove top.
Tip: For a better estimate of pot filler height tailored to your needs, install your pot filler high enough to fill your tallest pot.
If using your tallest pot to determine pot filler height over stove, spare 2 to 3 inches between the faucet and pot so that it does not get too hot during cooking. Otherwise the pot filler may get damaged over time due to the direct heat. Also, you should be able to safely access and use it while the burner is on. So better leave a few extra inches as a safe distance.
However, if you rarely use your tallest pot for cooking, for example once a month or so, then you should use some frequently used tall pot to take measurements for the height of pot filler. Remember, there is limited space between the stove and range hood so don't aim to install the pot filler too high. Above 24 or 25 inches height, there will also be more water splashing if you are filling a short pot.
In case all your pots are quite short in height, you should still mount the pot filler faucet at least 12 inches above the cooking range so that it does not get too hot from the burners and eventually get damaged.
Pot Filler Installation and Cost
Pot fillers need to be mounted to your kitchen wall and also need a water source (which is mostly not present at your desired location). So, to install a pot filler, your plumber will have to run a water line from the nearest water source (like the kitchen sink or dishwasher). This obviously demands some demolition. So if you are building a new house or remodeling your existing kitchen or walls, now would be a good time to add this stylish and useful fixture to your kitchen.
The plumbing work and method of installation is the very reason why you must determine in advance the exact location and height of pot filler that you require.
The two major expenses that contribute to the cost of installing a pot filler are labor cost and the cost of pot filler faucet itself.
Labor Cost
If there already is a water line leading to the back of your stove backsplash or you have an existing pot filler, then you would not be needing any plumbing work, hence no labor cost will be incurred. You will only need to buy a new pot filler faucet and attach it to the water line.
If that is not the case, your plumber will probably have to take down the tiles on your wall to reach the water lines. He will then run a water line for your pot filler from the nearest water source in the kitchen. If you are skilled enough to do all this yourself, then you can skip on the labor cost. Otherwise be prepared to spend some bucks on the plumbing and also for restoring the tiles or backsplash. According to some people who recently had a pot filler installed, the labor cost can go up to $550.
Tip: We recommend adding a pot filler while you are building a new house or doing some renovations to the kitchen.
Pot Filler Cost
Despite the utility they provide, pot fillers are considered more of a luxury fixture to your kitchen. They look stylish and trendy and give a nice look to the back of the stove. Hence, some pot fillers are quite pricey. Much more than ordinary faucets.
The starting price of a pot filler faucet is around $150. The good, quality ones with more reach and better finishing can range from $300 to $500.
Placement of Pot Filler over Stove
Pot fillers are installed on an interior wall of the kitchen, over the stove top or cooking range. Apart from the height of a pot filler, their location and placement is also an important factor that you need to determine in advance.
Centered
Pot filler centered above the stove is the most common and preferred choice. It looks symmetrically pleasant and can reach each burner on the cooktop by unfolding from its original position. Large, multi-jointed pot filler faucets with larger extension can even reach both sides of the cooking range.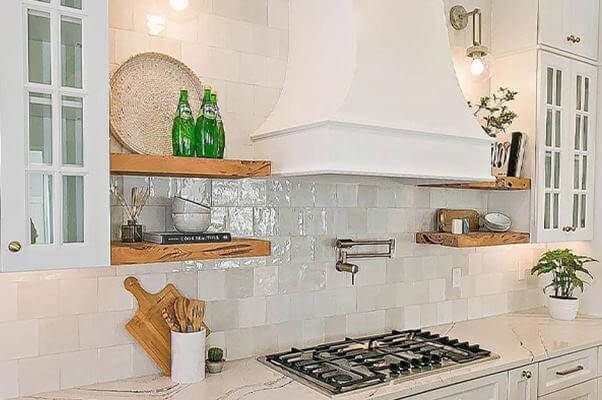 Offset to the Left or Right
A pot filler may also be offset to the left or right from the center of the stove. This is especially useful if there is a larger burner on one side that you mostly use for boiling water. In this way the faucet arm can even extend to the countertop and can be utilized there as well.
Side Placement
Side placement of a pot filler is also an excellent option. Instead of installing it on the backsplash over the stove, the pot filler is located to either side of the cooking range, above the counter top. This placement has some benefits to its credit. Firstly, the faucet will not get direct heat from the burners. Secondly, it can be used at the counter for other purposes apart from filling pots over burners. For example, to fill drinking glasses. In a busy kitchen, side placement of pot filler can make it work as a secondary faucet and maximize its utility.
Types of Pot Fillers
Pot filler height and placement will also depend on the type or style of pot filler that you select. They come in six main types.
Fixed Pot Filler
Fixed pot fillers are mounted to a wall from which they stick out much like an ordinary faucet. As the name implies, they are fixed at their position and uncapable of moving. This type of pot filler lacks the mechanism needed to reach multiple burners on the stove. So it is typically located above a single, most frequently used burner.
Swing Out Pot Filler
Swing out pot fillers are single-jointed pot fillers mounted to a wall. They can swivel left and right and reach all of the back burners. If you have a small cooktop, like a two-burner stove, this type is ideal as it can easily reach both burners.
Double Jointed Pot Filler
As the name implies, double-jointed pot fillers have two swing joints which allow these faucets to expand and have a much greater reach. This is the most common and preferred type of pot filler because of its ability to reach all burners over even a large cooktop. With an average full-length range of 22 to 24 inches, some of these can even extend to counters near the stove top. When not in use, they can be neatly folded against the wall.
This Delta Faucet Contemporary Stainless Steel Pot Filler is a good example of a double-jointed pot filler.
Articulating Pot Filler
This type of pot filler has an articulated arm capable of a 360 degree rotation. This makes it versatile and far reaching in all directions.
This Hansgrohe 2-Handle Pot Filler with 360-Degree Swivel complements any kitchen backsplash.
Cooker Island
All the above types of pot fillers are wall-mounted and are typically installed on the backsplash behind the stove. However, if you wish to have a pot filler on your kitchen island, then this type is exactly what you need. These are deck-mounted pot fillers and require the water lines to be routed under the floor for installation.
This Hansgrohe Starck Deck-Mounted Pot Filler is a good example in this category.
Sprayer
If you want to add on the versatility, some pot fillers also include a sprayer attachment. You can go for these if you want the water to be sprayed into your cooking pots instead of running down straight like from an ordinary faucet. However, for this type you will need to add a few inches to the pot filler height.
Final Thoughts
Pot filler is a stylish-looking luxury fixture for your kitchen which has a lot of utility as well. Since it has to be wall mounted and connected to a water line, you need to determine the pot filler height and location in advance. I hope this article would have guided you well about all important aspects that you need to know before buying and installing a pot filler.
If you have any other questions or would like to share something, please feel free to comment below. I would love to hear from you.
You may also like: Do Pot Fillers Add Value to the Home?
Latest Posts