Craving live grilling and barbecue, but don't have a backyard? Or the rain won't let you use your outdoor grill? Don't worry. An indoor grill is just what you need to keep the party going.
Here is a review of the top 10 indoor grills to buy in 2022.
1. Ninja Foodi AG301 5-in-1 Indoor Electric Countertop Grill
This 5-in-1 model of Ninja Foodi not only gives you the perfect sizzling and grilling experience, but can also be used to air fry, roast, bake and dehydrate your favourite foods. A temperature range of up to 500F along with cyclonic grilling technology ensures that food is cooked well on the inside while it sears on the outside. The removable 10″ x 10″ grill grate can can easily fit four burgers or four steaks at one time which is perfect for a small family. Faster cooking time also allows for second or third rounds to be prepared in no time.
Pros
Five convenient cooking modes in one appliance
Contact grill, so no need to flip food halfway
Removable, dishwasher safe grill grate and splatter shield
Comes with a crisper basket, chef-created recipe book and a grill cleaning brush
Cons
Slightly heavier than the rest, weighs 20 pounds
Feature-rich hence expensive
Medium capacity
2. Cuisinart Griddler Deluxe
Much more than just an indoor grill, the Cuisinart Griddler Deluxe has six cooking options in one: a contact grill, panini press, full griddle, full grill, half griddle/half grill, and top melt. The removable reversible plates have a flat non-stick surface on one side to work as a griddle and a super non-stick grill on the other to give your food those picturesque grill marks. It can be used both as a contact grill or an open one. Each plate has a capacity of grilling six burgers so opening it means you can be making 12 burgers at one time. Perfect for a large fest right? Not only this, you can make anything from steaks and paninis to omelettes and pancakes like a pro.
Pros
6-in-1 grill and griddle
Good capacity
Precise dual-zone temperature control
Removable, dishwasher-safe accessories
3. Elite Gourmet Smokeless Indoor Electric BBQ Grill
Thanks to this easy-to-use indoor grill from Elite Gourmet, barbecuing at home is not a hassle anymore. The 14-inch grilling surface provides ample cooking space, while the glass lid lets you see your steaks and vegies sizzle and also keeps the kitchen completely smokeless. Easy thermostat control with a range of 196 F to 445 F just needs a detachable temperature plug to be inserted into the grill. And for the cleaning freaks out there, all of its parts including the non-stick grill, glass lid, and the drip tray or grease collector are detachable, dishwasher-safe, and super easy to clean.
Pros
Amazingly low price
Compact and light-weight
Fast pre-heat
Easy to clean
Cons
Open grill, not a contact one, so food needs to be flipped midway
The temperature control is not built in, so beware to not lose that plug
4. Techwood Indoor Smokeless Grill
Equipped with advanced smoke extractor technology from Techwood, this indoor electric grill is one of the best in keeping the cooking area smoke free, making it ideal to use even if you don't have an efficient outdoor vent system in your kitchen. Its large non-stick grilling plate can allow you to host big gatherings and leave everyone in awe with those perfectly cooked, savoury steaks all from the comfort of your home.
Pros
One-touch temperature control
Good grilling capacity
Gets rid of smoke and excess oils/fats
Easy to clean
Cons
Can only perform the function of an open grill, so the price may seem to be a little over the edge
5. Hamilton Beach Electric Indoor Searing Grill
Keep an eye on your burgers and steaks through a viewing window while they sizzle and get the beautiful grill marks, which most closely resemble those of an outdoor gas grill. Trust me, the difference is hard to tell both by taste and appearance. A 118 square inch grilling surface which can accommodate 6 burgers at once is ideal for many. Removable, dishwasher-safe parts make the after party clean-up a breeze.
Pros
Adjustable temperature knob for searing as well as low-heat grilling
Large grilling plate and drip tray
Simple to clean
Good value for money
Cons
Does not have the best of insulation
6. Chefman Electric Smokeless Indoor Grill
This large yet light-weight indoor grill from chefman is a great option because of its impressive performance and a very attractive price. There is a large cooking area, divided into temperature zones with high, searing heat in the middle and less on the edges for foods like fish and vegetables. This means that you can prepare a complete meal side by side. The parts are removable and dishwasher-safe which makes cleaning stress-free. To achieve the smokeless effect while grilling indoors, there is a water tray which needs to be filled with water before cooking, so that dripping grease or oil will be cooled down quickly. However, during our testing, it still produced a little bit of smoke.
Pros
Extra large grilling surface
Light on the pocket
Easy clean-up
Cons
Slightly uneven heat distribution
Not entirely smokeless
Low power (1120 Watts) as compared to its counterparts
7. Secura Smokeless Indoor Grill
More than an indoor grill actually, it is a 2-in-1 electric grill and griddle. The large reversible plate serves both functions of grill and griddle very efficiently. It has a glass lid which helps keep the surroundings splatter-free and lets you keep an eye on your awaited meals without having to open the grill again and again. This also helps retain heat and moisture inside for faster and even cooking.
Pros
Two useful features in one
Adjustable thermostat with an indicator light
Dishwasher-friendly
Good value for money
Cons
Relatively small cooking surface
8. Hamilton Beach 8-serving Raclette Electric Indoor Grill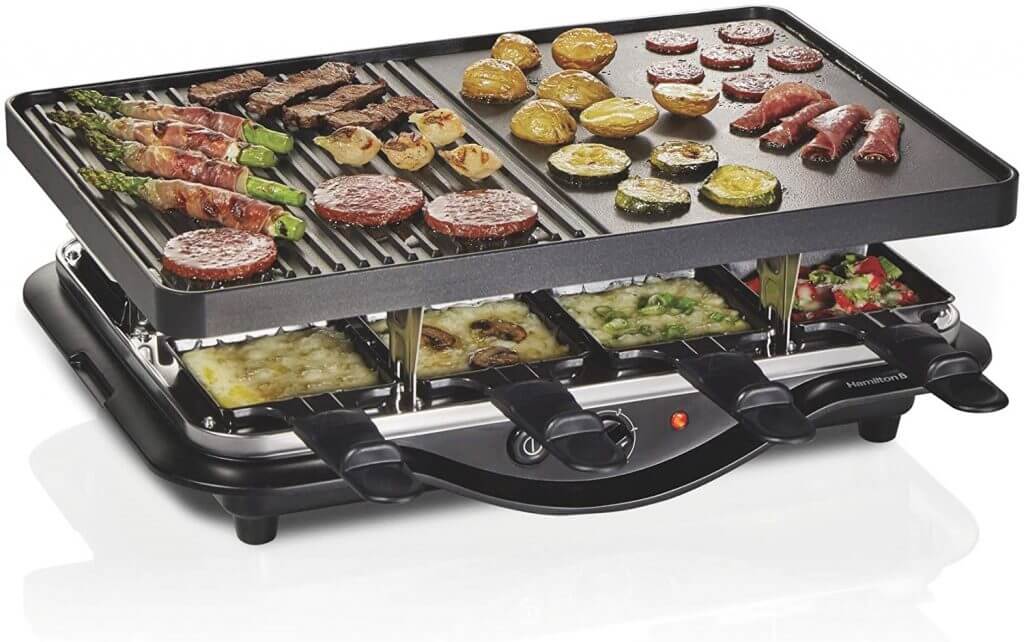 Another indoor grill by Hamilton Beach has made it into our top 10 picks. This flashy grill has a large cooking capacity; it can cook for eight people at a time, which is perfect for large family meals. It comes with some amazing accessories too: a raclette base, grill top, spatula, and 8 individual warming trays for customized serving. And thankfully, these are all dishwasher-safe.
Pros
2-in-1 grill/griddle
Large 200 square inches cooking surface
Variable heat controls for perfect searing and warming
Easy to clean
Budget-friendly
Cons
Can get a bit smoky sometimes
9. George Foreman Smokeless Indoor Grill

George Foreman has made a mark in the indoor grill business since it first stepped into it in the 90s. Yes, it goes back a long way. However, since then their technology has evolved so much and for the better. This open grill is a clear example of that. It comes in two sizes: family size and party size, so you can choose based on your requirements. The compact and simple looking appliance is equally simple to use and clean. It also lives up to the manufacturer's claim of 80% less smoke, which is pretty good for an open grate grill.
Pros
Variable and precise temperature control
Even heat distribution
Two available sizes
Easy to use
Easy to clean
Cons
A little overpriced for the features provided
10. WaxonWare Smokeless Stove Top Grill Pan
If you just ran out of counter space or don't have the budget for a premium indoor electric grill, don't let that stop you from enjoying the grill-at-home experience. WaxonWare has come up with a very affordable and one of the best stove top grills which you can use to conveniently cook steaks, fish chicken, vegetables and much more. Oh, and it gives those picture-perfect grill marks too. Whether you want to use it on a gas stove, or an electric one, this grill pan has got you covered. You can even take it to camping along with a portable burner.
Pros
Affordable
Simple to use
Small and portable
High quality non-stick grill and drip pan
Dishwasher-safe
Cons
Relatively small grilling area compared to traditional indoor grills
Not entirely smokeless
Latest Posts