Microwave oven has become a necessity in this day and age. And so has a toaster oven or convection oven. Wouldn't it be great to have the best of both worlds? If you think so too, then this multifunctional kitchen appliance called microwave toaster oven combo, or a microwave convection oven is exactly what you need.
What is a microwave toaster oven combo?
A combination microwave toaster oven is a 2-in-1 kitchen appliance that allows you to quickly heat up your food like a conventional microwave oven does. And also to cook, bake or toast your food like a regular oven. This is done by combining the technologies used in microwave ovens, toaster ovens, and convection ovens.
Microwave toaster oven combo uses microwaves which make the food molecules vibrate faster, thus heating the food from inside out. For heating and cooking from the sides, it incorporates a heating element, like that in a toaster oven. Finally, the "convection cooking" is achieved by the use of a fan that circulates hot air for faster and even cooking. This is also what makes the food fresh and crispy, unlike a microwave oven which kind of leaves it soggy.
Top Picks in 2022
In a hurry? Well, here are our top picks for each type of microwave convection ovens for you. Though, I do recommend reading the full guide and reviews to make the best decision.
Types of Microwave Convection Ovens
There are three main types of microwave toaster oven combos, based on their placement:
Countertop
Over the range
Built-in
Let us look at each one in detail with their pros and cons, so that you know which one is suitable for your kitchen needs.
1. Countertop Microwave Toaster Oven Combo
You will need some counter space for this type of oven, obviously. Or you may place it on a table top if available in your kitchen. A countertop combination microwave is the simplest to get started with. Just unpack it and place it at a suitable location on your counter (near a power source) and it will be ready to use. It is equally easy to remove or move around. For instance, if you move to a new house you can just pack it and transport. Cleaning and maintenance is also a breeze with this kind of convection microwave oven.
2. Over the Range Microwave Toaster Oven Combo
As you would have guessed by the name, an over the range microwave convection oven is designed to be installed over the stove or cooking range. So if you want to save up on your counter space, this is definitely an option to consider. Also, if you are looking forward to giving your kitchen a modern and aesthetic appeal, you would want to go for an over the range combo instead of a countertop oven.
One of the biggest advantages of having an over the range microwave toaster oven combo is that it also works as a vent. The appliance has a ventilation system integrated into it, thus eliminating the need of a range hood to take the smoke out of your kitchen. This means further savings for you, as one appliance will be performing several essential functions.
3. Built-in Microwave Toaster Oven Combo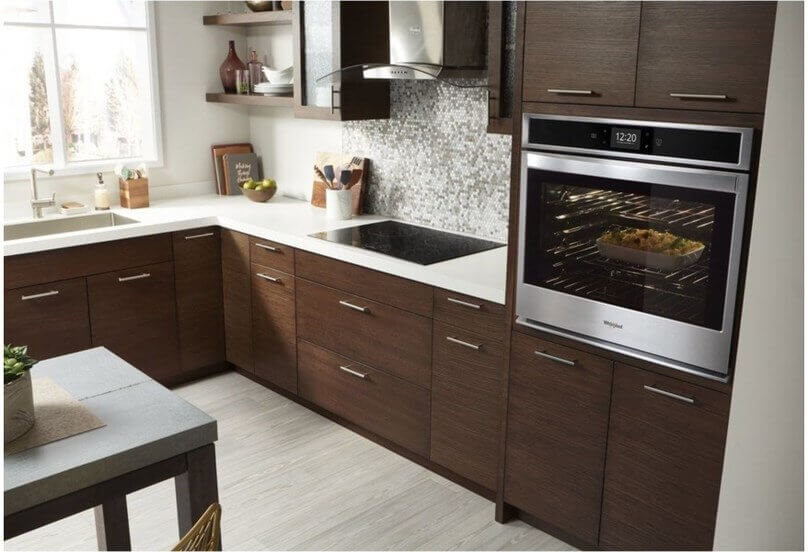 A built-in microwave toaster oven combo is designed to be neatly installed into your kitchen wall, shelf, or cabinet, again saving that precious counter space in the kitchen. It is not only ideal for small apartment kitchens or RVs (recreational vehicles), but also a great choice if you want to give your kitchen a modern and stylish look.
Note that over the range and built-in microwave convection ovens are more permanent and not easily portable as compared to a countertop oven. Also, you will need them to be properly fixed and installed by a professional into a designated and customized space.
Countertop ovens are generally cheaper than over-the-range or built-in units.
Comparison Table
Here's a quick comparison of the 7 best microwave toaster oven combos that we have reviewed in this post. Read on for detailed reviews and pros and cons of each model.
18 litres
(0.6 cubic feet approx.)

14 litres
(0.5 cubic feet approx.)
Microwave Toaster Oven Combo Reviews
After a thorough survey of the options available in the market, these are the 7 best microwave toaster oven combos that we have selected to review:
1. Instant Omni Plus 10-in-1 Air Fryer Toaster Oven Combo
2. Breville BOV845BSS Smart Oven Pro Countertop Convection Oven
3. Panasonic HomeChef 4-in-1 Microwave Oven with Air Fryer, Convection Bake
4. Toshiba ML2-EC10SA(BS) 4-in-1 Microwave Oven with Healthy Air Fry, Convection Cooking
5. Sharp R1874T 850W Over-the-Range Convection Microwave
6. Galanz GSWWA16S1SA10 3-in-1 SpeedWave with TotalFry 360, Microwave, Air Fryer, Convection Oven
7. Cuisinart CMW-200 1.2-Cubic-Foot Convection Microwave Oven with Grill
So let's dive right in.
1. Instant Omni Plus 10-in-1 Air Fryer Toaster Oven Combo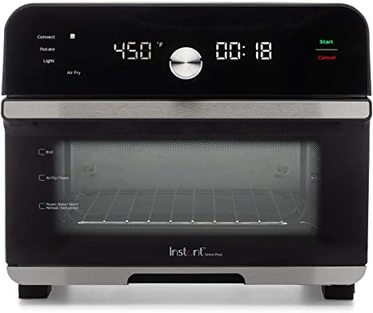 Say goodbye to tons of kitchen appliances and welcome this great 10-in-1 combo by Instant Pot. Yes, you read that right. This single appliance lets you perform ten different functions: air fry, bake, broil, convection cook, dehydrate, reheat, roast, rotisserie, toast and warm your food.
With 18 liters of inside capacity, this combo is ideal for small families. You can bake a 12 inch pizza or toast 6 slices of bread at once.
1800 Watts high power and Golden Quartz infrared heating technology allows the oven to preheat in mere seconds and cook food evenly along with 50% energy savings. The air fryer mode uses Even Crisp technology to fry your favorite snacks to perfect crunchiness with 95% less oil than deep frying.
Digital display, one-touch cooking programs, and temperature control (from 170 to 450 F) are all very easy to use. However, while the oven is not in use, i.e. in standby mode with power connected to it, it will show "OFF" by default. So don't be confused, it is just its default display in standby mode.
Also, with this oven combo, you will need a power outlet just near to where you intend placing it, because its power cable is quite short and the instruction manual suggests not to use an extension with it.
Although these appliances don't dissipate much heat, but this one does. So it is advised to keep it at a well ventilated place. As long as it is on an open counter space and you have at least 3 inches space at back and both sides, you're good to go.
What we liked
Ten useful functions in one appliance
Fast preheat and even cooking
High power
Simple and convenient controls
Easy to clean, simply with a damp cloth
Great customer support, warranty and replacement policy
Affordable and excellent value for money
What we didn't like
Gets hot while in use, so needs ventilation
Short power cable
Limited capacity as compared to others
2. Breville BOV845BSS Smart Oven Pro Countertop Convection Oven
This versatile countertop convection oven gives you ten great cooking options: toast, bagel, bake, roast, broil, pizza, cookies, reheat, warm, and slow cook. With a high 1800 Watts of power, it has considerably faster preheat and cooking times as compared to its counterparts.
Internal capacity of 14 litres can barely accommodate the claimed 13 inch pizza, 6 slices of bread, or a 9 cup muffin tray.
Its design and easy to use control panel will make the transition from a conventional oven to this one quite seamless to you. For further ease, the oven light guides you by automatically turning on when the cooking cycle is ending.
Something that bothers us is that although Breville offers a one year warranty for this oven, the replacement mechanism is not very smooth or hassle free. So you can only pray that you don't get any faulty piece.
What we liked
Ten useful functions in one appliance
High power, faster cooking
Option to slow cook for up to 10 hours
Interior oven light guides you to end of cooking cycle so you don't overcook
Affordable price
What we didn't like
Small capacity
Air fryer mode not available
Not the best of warranty and replacement procedure
3. Panasonic HomeChef 4-in-1 Microwave Oven with Air Fryer, Convection Bake
This minimalist and sleek looking microwave convection oven combo from Panasonic is all you need to prepare meals, sides or reheat food in no time. With four convenient functionalities (inverter microwave, broiler, air fryer, and convection oven) you can use it on a daily basis as part of your cooking routine.
Although toasting is not officially listed as a feature for this oven, but we have found that the broiler function can make up for that. Just put the bread slices on broiler rack, broil for 60 seconds or as desired, then flip and repeat for another 60 seconds. You will get perfectly browned and crisp toasts just like a toaster oven.
The appliance has internal measurements of 1.2 cubic feet or a capacity of around 34 liters, which is more than enough. However the power is 1000 Watts, which is fine but not very high like the others on this list. That results in comparatively slower cooking times.
A very attractive feature of this Panasonic combination microwave is its installation type. Although it is by default a countertop oven, but there is an optional Trim Kit available for a customized, built-in look.
The safety features have also been put in place very nicely. It comes with a child safety lock feature, so you don't have to worry about kids opening or operating this appliance. There is also a silent mode in which the microwave won't beep, in case you want to use it late night and don't want to wake others up.
If you take a look at the control panel of this oven combo, you would immediately say "wow, this is simple". But wait until you put it on the counter and try to use it. No doubt the controls are very simple and easy to use, with a button for each cooking mode, but Panasonic has gone way too far with the sleek look. The buttons are very thin and are not illuminated at the back, and the font size is very very small. This makes it not so user friendly for many.
What we liked
Can be built in or placed on countertop

Four convenient cooking modes

Very large capacity
Child safety lock feature
Silent mode available
Sleek and stylish looking
What we didn't like
Not very high power as compared to others
Expensive
Buttons on control panel are hard to see and read
4. Toshiba ML2-EC10SA(BS) 4-in-1 Microwave Oven with Healthy Air Fry, Convection Cooking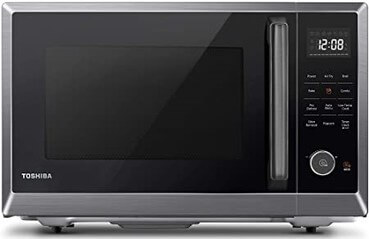 Toshiba is a well known brand in the world of kitchen appliances, and this microwave convection oven is just another classic from them. Although the model is officially named a 4-in-1 oven, it actually has five amazing functionalities: microwave, air fry, convection cook or bake, grill, and low temperature or slow cook.
It is a nice looking black stainless steel countertop oven which will make a good appearance in your kitchen. With a large capacity of 1 cubic feet or roughly 28 liters, it can easily fit a whole chicken or a 12-inch pizza. The rust and scratch resistant stainless steel interior is also super easy to clean.
With an optimal power of 1000 Watts, it is a good option to consider in this price. However, the cooking times may be a bit slower than other high power microwave oven combos in our list. There are also 25 preset cooking menus that you can choose from. These include 10 air fry menus and 4 slow cook menus, apart from the 11 commonly used microwave menus.
This Toshiba microwave oven combo also has a quite appealing and unique design feature which is the Eco mode. As per the Toshiba lab data and test results, you can use this mode to achieve 50% energy savings on the standby power of the oven. The result? Considerably lower electricity bills.
What we liked
Five useful cooking modes

25 preset menus for daily cooking

Good capacity
Very attractive price
Energy saving through Eco Mode
What we didn't like
Not very high power as compared to others
Air fry mode needs preheating for about 5 minutes
Need some time to learn the different modes and get used to it
5. Sharp R1874T 850W Over-the-Range Convection Microwave
This one should definitely be on top of your list if you are looking for a convection microwave oven for a small kitchen or an RV. Since it has to be installed over the range, you do not need to worry about lack of counter space. Even for bigger, spacious kitchens, this sleek oven will add a class and style of its own.
It has a reliable construction of stainless steel material, and offers a decent capacity of 1.1 cubic feet. The keypad, cooking menus and the "Interactive Cooking System" is easy to use and follow, and you'll get a hang of it in no time.
Bonus: The built-in exhaust eliminates the need of a range hood or vent. Meaning? Further convenience and savings! Yay.
Although using it is fairly simple, the installation may seem a bit complicated if you are getting an over the range unit for the first time.
Tip: I would recommend getting some professional helper for fitting the oven so you don't risk damaging any part of the equipment.
What we liked
Counter space saving
Ideal for RVs and small kitchens
Built-in vent; no need for range hood
Reliable and easy to use
Stylish and classy
What we didn't like
Low power of 850 Watts as compared to countertop oven combos
Installation may seem a bit complicated
Quite expensive
6. Galanz GSWWA16S1SA10 3-in-1 SpeedWave with TotalFry 360, Microwave, Air Fryer, Convection Oven
Galanz is yet another leading manufacturer of global home appliances. This microwave toaster oven combo is one of their many truly modern and reliable kitchen products. The 3-in-1 combo gives you the best of a microwave, convection oven, and an air fryer in just one appliance. It comes in 2 color options (stainless steel and black) so you can pick the one that goes well with your kitchen theme.
This countertop microwave convection oven offers a large capacity of 1.6 cubic feet, which can easily fit an 11-inch pizza. An optimal energy consumption of 1000 Watts, along with its "TotalFry 360 Technology" for air frying and "Combi Speed Cooking" for microwave convection cooking makes everyday cooking such a breeze.
Unfortunately, the packaging, shipment, warranty and return / replace policy is not half as good as the oven itself. A fraction of our testing team complained of poor packaging of the unit. One even thought to the extent that maybe they have been sent a factory refurb. And when our team tried returning the microwave convection combo, the customer service was somehow lazy and not so cooperative.
What we liked
3-in-1 appliance with 10 cooking programs
Includes multiple useful accessories (air fry kit, glass turntable, baking and roasting pan)
User-friendly touch control panel
Huge capacity of 1.6 cubic feet
Optimal energy consumption of 1000 Watts
What we didn't like
Poor packaging
Return or replacement is a hassle if need arises
Price is a bit on the higher end
7. Cuisinart CMW-200 1.2-Cubic-Foot Convection Microwave Oven with Grill
If you're not a big fan of too many functions in one appliance and want to keep it simple, then this basic convection microwave oven and grill by Cuisinart is definitely what you need. It's as simple as it gets. Neat design, easy to clean, and equally easy to use on a regular basis. Apart from the added functionality of convection bake and roast, it is pretty much the same as a regular microwave oven.
1000 Watts energy consumption and 1.2 cubic feet capacity is generous enough for an average household. 9 preset options from defrosting food to making popcorn, pizza and even cake are just a push of a button away from you.
While simplicity is the highlight of this oven combo, for some people it may not be a worthy choice because they can get a microwave, toaster, air fryer, convection oven and what not in one appliance, and almost at the same price. Hence, the need of different users dictates the success of this oven combo.
What we liked
Simple and easy to use
Good capacity
9 preset options for hassle-free cooking
Can automatically switch between functions of your choice (e.g. defrost, heat, then grill food)
What we didn't like
The glass door sometimes fogs up during use
No way to turn off the beeping sound at the end of a cooking cycle
Purely a microwave and convection oven. Air fryer and other versatile modes not available
Slightly over-priced
Benefits of Microwave Toaster Oven Combo
Investing in a microwave toaster oven combo offers you numerous benefits which makes it a must-have appliance. Let's dive deeper into those.
Budget-friendly
One might think that a multifunctional appliance is going to be expensive for sure. Well, not in this case. A microwave toaster oven combo is quite light on the pocket. Also, the fact that this single appliance gets the job done for two (microwave oven and toaster oven) means you only need to buy one appliance. Hence a lot of savings for you.
Energy-efficient
Luckily, it's not just a one-time saving but a lifetime one. Microwave convection ovens are designed to be highly energy-efficient, so the reduced electricity bills make them very cost-effective to use. If you have previously used toaster ovens, you know your high monthly bills right? While using a microwave toaster oven combo, you will be able to see a clear difference in your utility bills.
Time Saving
A microwave convection oven combines the heating and cooking technologies used in microwave ovens, toasters, and convection ovens. This allows it to heat and cook the food evenly and much, much faster. Also, you would no longer need to first defrost in one place and then move the food to another for cooking. Using this single appliance to do it all at one place is quite a time saver to be honest.
Versatile
Having the option to do multiple things by just investing once always sounds like a good idea to me. With a microwave toaster oven combo you can:
defrost your food
cook a variety of dishes using the pre-programmed cooking modes
bake the perfect pasta, pie or cake
roast a mouth-watering chicken
And the list goes on. For me personally, this amazing device has made cooking so much more fun and I can try a variety of dishes that I never laid hands on before.
Space Saving
Admit it or not, but the counter space in our kitchens always seems to be limited. Being able to have one appliance do the job of two is a huge space saver. And if you go for a built-in or over the range model, that means further saving up on that valuable kitchen space.
Microwave Toaster Oven Combo – Buying Guide
While buying a microwave toaster oven combo, you need to assess the following factors to determine which oven type and model is best fitted to your needs.
Size
Choosing the appliance with an appropriate size is an absolute must, so that it will easily fit in your kitchen. You would obviously not want to buy something only to find out that you don't have enough space on the counter to put it.
Tip: Keep in mind that a minimum of three inches space should be spared around the microwave convection oven for ventilation purposes.
Apart from the overall size of the unit, you also need to determine what capacity would be suitable for you. Generally, a capacity of one cubic foot is considered ideal. But again, it all depends on your need.
Power
Power or wattage of a microwave toaster oven combo is another important factor to keep in mind to get the most out of your appliance. Most of these ovens have a power range from 600 to 1200 Watts. The appliance with more power will cook more quickly and effectively, but would also be more costly. Hence you need to strike the right balance between the cost and power.
Generally, a 1000 Watts unit would be ideal for most households, and that is what we recommend as well.
Controls and Pre-Programmed Features
Almost all modern microwave toaster oven combos come with some pre-programmed features and functions which you can utilize to increase your efficiency in the kitchen. But don't forget that more controls and features make the device more complicated. So, know your requirements first and look for a model that offers you what you need.
Tip: Don't settle for less than what you need, but also don't be overwhelmed by too many features that you would probably never even use.
Ease of Cleaning
In today's fast-paced lifestyle, spending hours on cleaning your appliance would be a nightmare. Luckily, most of the microwave toaster oven combos are made of stainless steel which makes them easier to clean. A lot of these devices also have removable parts, some of which are even dishwasher-safe. Try to go for these if possible.
Pay particular attention to any crevices or slits, vents, hinges and lights as these are often the hardest to clean.
Safety Features
If you have kids at home, safety of a kitchen appliance becomes a critical feature that you can't do without. To avoid any hazard of burn or injury, look for a microwave convection oven whose exterior (especially the door handle) stays cool even during use.
Child safety-lock feature is also very important so that they cannot open the oven combo without your help.
Warranty
When an appliance comes with warranty, it is a sure-fire way to tell you that the brand is confident of its quality of manufacturing, and it is there to back its products in case of any mishap. So, to save yourself from online shopping scams, and to differentiate between genuine and fraudulent manufacturers, a valid warranty is a must. That is what you should be looking for too, before just buying any microwave toaster oven combo.
Also, it is better to go for renowned brands instead of totally new or unheard ones, because the former will have better quality assurance procedures in place.
Aesthetics
Though this might sound a little extra, but for some people the overall look and vibe of the appliance is very important. For instance, if you have a stylish and modern looking kitchen and all your appliances are silver in color, a brown or white microwave toaster oven combo would obviously not go with the aesthetic appeal of your kitchen.
Our Verdict
You would obviously want to invest in a microwave toaster oven combo that gives you the best value for money. After considering all the factors, we have found Instant Omni Plus 10-in-1 Air Fryer Toaster Oven Combo to be striking the best balance between quality, performance and price.
Frequently Asked Questions (FAQs)
If you have any other questions or would like to share something, please feel free to comment below. I would love to hear from you. Cheers!
You may also like: 10 Best Indoor Grills in 2022
Latest Posts